5 Reasons Why You Should Swap Your Shower Gel for Okiki Soap Bars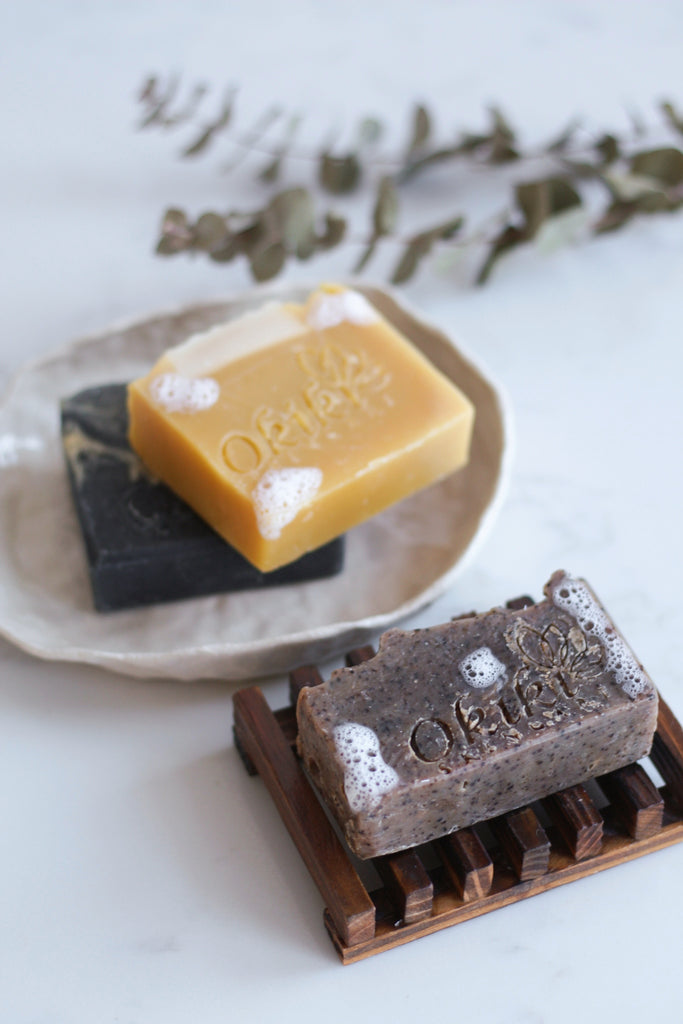 Solid soap bars are staging a comeback, and we're making them cool again.
At Okiki, we have been making our luxurious soap bars ever since selling our collection at the first Farmer's Market that we attended back in 2016. From then on, we knew we wanted to carry on producing opulent, sustainable alternatives to soap wash for our lovely customers, that also use no plastic, and less water in the process of manufacturing. For those who don't know, most shower gels are often made from synthetic detergents, whereas the base of our Okiki soaps are solely made up of shea butter, cocoa butter, coconut, or olive oil. In this blog post, we are going to tell you exactly why soap bars are the next BIG thing in skincare, and why you should consider switching to them from your unsustainable soap wash.
1. Soap bars usually last much longer than ordinary liquid soap wash
Our Okiki studies show that we use liquid soap much quicker compared to a simple soap bar when washing in the shower, meaning the number of times you must replace your soap wash is much higher. Our Okiki soap bars are designed to aid the skins elasticity for a younger looking complexion and leave the skin feeling completely hydrated. Their rich ingredients mean the bar is able to penetrate deep into the skin and so dry skin will never be an issue again.
2. Soap bars help you reduce your plastic waste
Overall, soap bars are much better for our environment. Soap bars have a much smaller carbon footprint than bottles of liquid soap, and at Okiki, we package all of our soap bars in our recyclable cardboard boxes meaning there is a zero-plastic waste, or zero waste at all should I say! Hooray! As our planet continues to struggle with human demands, every little difference helps so why not change to soap bars today
3. There are so many different formulas
At Okiki, we have created a total of 18 different soap bars, you can check them all out here. Whilst soap bars are traditionally assumed to be drying or overly harsh, our array of different recipes will ensure they are anything but drying or overly harsh on your precious skin. For example, our Jade Olive Soap is made from a combination of olive and coconut oils, meaning it is extremely moisturising and gentle to help maximise your skins hydration and to give you a beautiful glow every day!
4. They're easy to travel with
Now we are allowed to travel further than out of our living room, we all know that feeling of not being able to fit in all our toiletries into one bag (I am a notorious over packer). Not to worry – simply pop your soap bar into a travel soap container and you're good to go. Since the soap isn't a liquid, you won't have to include it in your clear bag that houses your sample-sized shampoo and mini perfume bottle.
5. No preservatives needed
Our Okiki soap bars do not require preservatives of any kind to stay fresh, safe, and effective. Most liquid soaps/hand wash that contain water usually need preservatives in order to last longer – and although not all preservatives are harmful, your skin will thank you massively when indulging in our natural oils within the Okiki soap bars.
Happy washing!