The Benefits of Using Face Mask Powders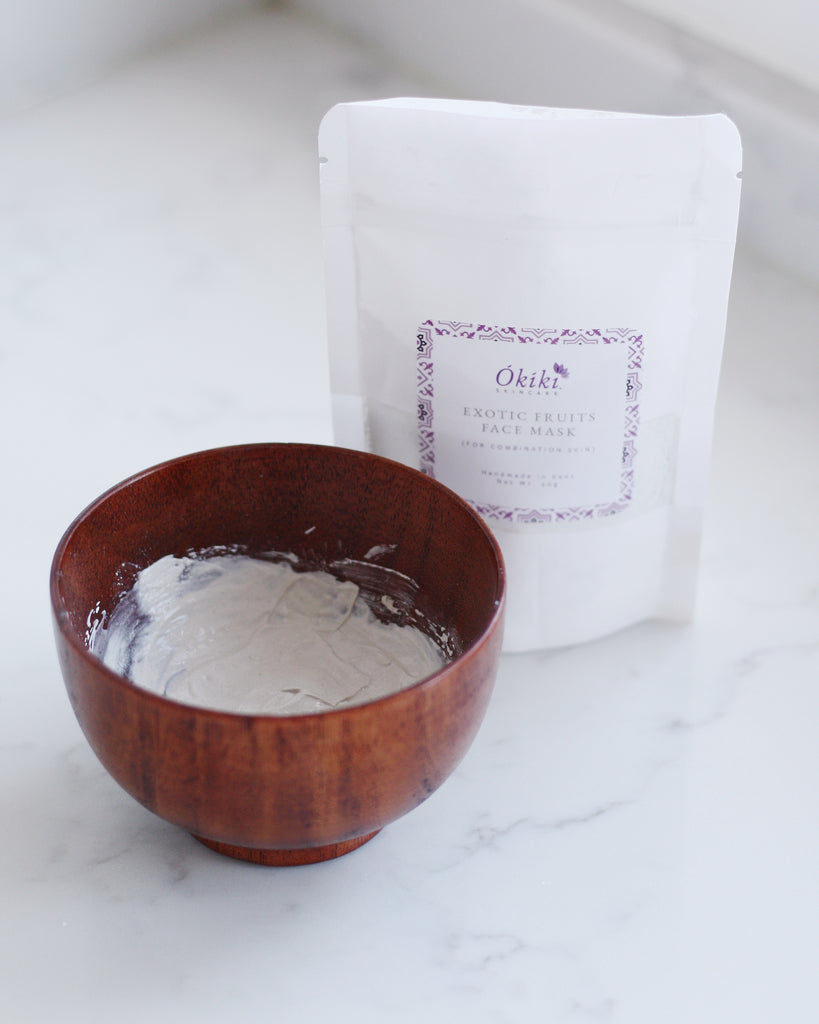 Running a bath, pouring a glass of wine and relaxing whilst reading one of your favourite books sounds like a pretty good night, right? Now imagine it with a cooling face mask on… even better? The thing we love most about our face mask powders that Ade (founder of Okiki) formulates is that you have complete control of how you would like to use them. The powders are so versatile and easy to use, plus they're all palm oil free. There is an Okiki face mask powder for everyone regardless of your skin type, and they are all unisex too, of course!
Whilst most people like to mix their powder with ordinary water, you can also experiment by combining them with oat milk or manuka floral water – something that Antonia, co-founder of Okiki, loves to do! We wanted to break each Okiki face mask powder down in this post so that it is easy for you to match the powder with your skin type and the results that you would like to eventually achieve!
Jade Face Mask Powder
Who is it for?
What does it do?
Naturally boosts the appearance of your skin
Helps to reduce blemishes and control redness
Combats and removes dead skin cells to unclog pores
Gives you a youthful Okiki glow!
What are the ingredients?
Kaolin Clay – draws out impurities
Blueberry Powder – contains natural antioxidants which help to fight free radicals, giving the mask an anti-ageing effect
Calendula Powder – anti-inflammatory properties that give your skin a healthy glow
Honey – soothes the skin and leaves it feeling silky soft
Lavender Essential Oil – helps to clear blemishes and gives the powder a wonderful scent
Tea Tree Essential Oil – antibacterial properties that also helps to fight acne
Detox Face Mask Powder
Who is it for?
Oil and combination skin
Blotchy and blemish prone skin
What does it do?
Helps to unclog pores
Deep cleanses your skin and detoxifies
Draws out impurities from your skins surface
Delivers minerals to your skin for a glowing complexion
What are the ingredients?
Bentonite Clay – helpful in treating acne breakouts and oily skin
Volcanic Ash – rich in minerals which helps to clear blemishes and irritated skin
Rosehip Powder – maximises the retention of phytochemicals (aka acts as an antioxidant and anti-inflammatory ingredient)
Goat Milk Powder – helps to nourish the skin
Sweet Orange Essential Oil – gives the mask a beautiful fragrance and helps to hydrate the skins layers
Gigi Face Mask Powder
Who is it for?
Normal, dry skin
Suitable for vegans
Sensitive skin
What does it do?
Renews and rebalances your skin
Leaves your skin feeling revitalised
Soothes irritated skin
What are the ingredients?
Bentonite Clay – fantastic for drawing out impurities in your skin
Seaweed Powder – draws in moisture and helps to hydrate the skin
Ylang Ylang Essential Oil – stimulates the growth of new cells, helps to release tight muscles, and helps to soothe wrinkles
Lemon Essential Oil – clarifies skin and gently exfoliates dead skin cells
Mint and Chocolate Face Mask Powder
Who is it for?
Dull skin
Normal, dry and sensitive skin types
What does it do?
Improves your complexion
Gives your face a wonderful, radiant glow
Leaves you feeling refreshed and energized
Satisfies your chocolate cravings (without the calories!)
What are the ingredients?
Kaolin Clay – smooths and clears skin by drawing out impurities
Buttermilk Powder – reduces the appearance of blemishes and age-related skin darkening
Raw Cacao Powder – a well-known antioxidant powerhouse that helps to resurface your skin
Goat Milk Powder – full of nutrients and deeply moisturises the skin
Peppermint Essential Oil – helps to wake you up and gives the mask a delightful scent
If you do try out any of our Okiki Face Mask Powders, we would love to see you wearing them on Instagram by tagging us @okikiskincare and including our #okikiglow hashtag!